Anti-Theft System for Cars in Marbella
RESEARCH IN THE FIELD OF AUTOMOTIVE SECURITY SINCE 2008
We offer you the products of the leading designer and manufacturer of innovative anti-theft systems for cars.
Igla 200 – modern anti-theft system for cars in Marbella
The system Igla 200 controlled by entering a PIN code using the standard buttons of the car. The engine is locked according to the standard wiring of the car. No additional wires are required to connect the immobilizer.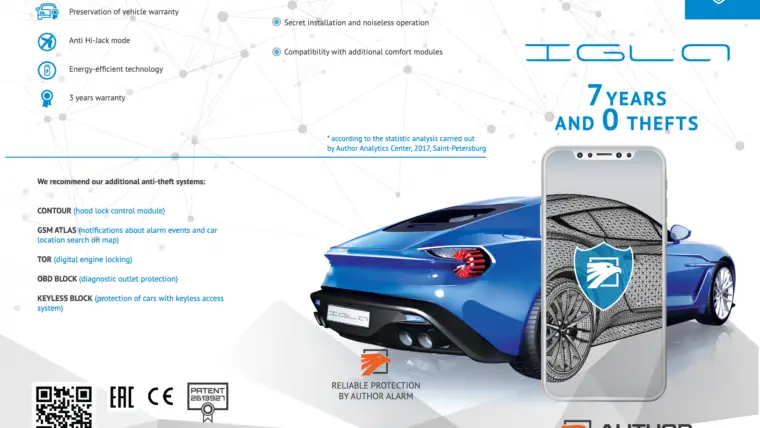 The needle does not reveal its presence on the car before the theft attempt. And even at the time of the theft, the system simulates an engine malfunction. Thanks to its miniature size, the anti-theft system can be installed almost anywhere in the car.
Having IGLA as a base there is a possibility to upgrade it with additional security modules. Also this system protects the car from any possible way of theft.
Cars Anti-Theft Devices
Check out the products to built a security complex for the car and protect it from all known ways of theft:
  Anti-Theft Systems for cars in Marbella
Our team work daily to offer the most reliable systems for our customers. And, You can send us the details of your car: make, model, year of manufacture, mileage, special nuances.
We will select the best option based on your individual needs. As a result, we send you the total price.
The price will include:
kit Anti-Theft Systems for cars

shipping cost

installing

documentation
Our company Tuning Autonewart will also help you carry out car technical inspection before installing Anti-Theft Systems for cars.
For all questions, please write on WhatsApp: +34 604 188 965 | +34 684 188 965
Contact us   or send a request via the form on our website